Multimedia Designer Areas of Expertise
Graphic Designer & Art Director
Production Specialist
Branding & Content Strategies
Communication/Visual Designer
Short-Form Video & Podcast Editing
Multimedia Content Producer / Blogger
Software Skills
Photoshop, Illustrator, InDesign, Premiere, Audition, & AfterEffects
Microsoft Office: Word, Excel, & PowerPoint
Various CRMs, Monday.com, G-Suite, Trello, & Slack
Other: Canva, WordPress & MailChimp
Social Media: Sprout Social, Buffer, & HootSuite
Certificates with HubSpot
Content Marketing Certified
Jan 2018 – Mar 2020

Inbound Marketing Certified
Dec 2017 – Feb 2020
Mentorship Program
Executives from PepsiCo & Walt Disney World, 
acp-usa.org
, 2009 & 2016
U.S. Army, Signal Support Systems Specialists – Veteran, 2007
Internship Experience
Plush Recording Studios, Event Management, 2014
3BlackDot Media Agency, Content Development Specialist, 2013
GDC Marketing & Ideation, Graphic Designer, 2010
Volunteer Experience
Board Member of AIGA Jacksonville, Social Media Coordinator, 2018
Boom! Social Media Marketing, Event Assistant, 2016
Artist Assistant/Event Runner for Florida Grammy Showcase event during FMF, 2015
United Arts of Central Florida, Event Video Blogger, 2014
Creative Student Networking Group, Full Sail University, President, 2012
BPM Magazine - Promote new artist music for local events, 2003
Education Awards
Full Sail University B.S. Entertainment Business, 2013
Salutatorian
Advanced Achievement
International Business
Marketing & Strategic Planning
Media Distribution
Managerial Accounting
Business Ethics & Social Responsibility 
Artist Management
Strengths
Combination of innate creativity and advanced technical knowledge
Adaptability and willingness to learn new skills/technologies
Engaging, professional presentation/communication style
Ability to multi-task in a deadline-driven, fast-paced environment
Skill at interfacing with a diverse range of internal and external professionals to coordinate client projects
Track record of operational efficiencies through procedural improvements or equipment upgrades
Experience with color correction, digital reproduction, screen printing, and photography
Commitment to continual professional development and growth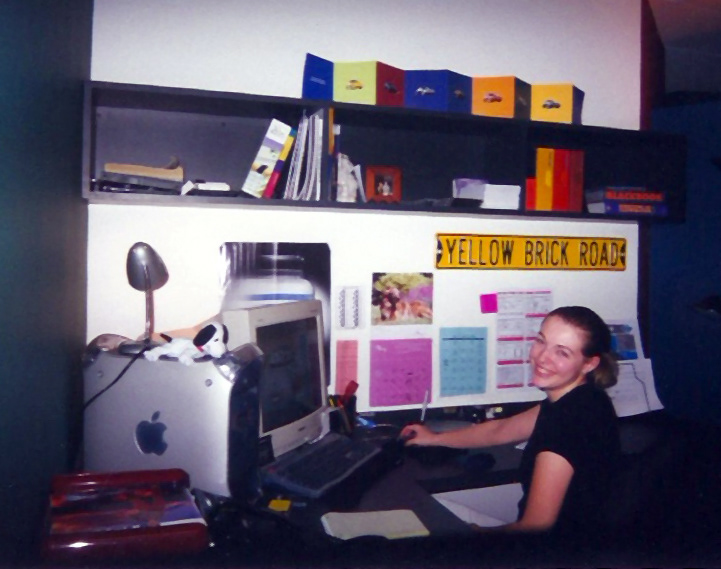 My Design Journey
One afternoon, as a 'tween', sitting in an art classroom, my art teacher took me to the side to speak with me about how I have a natural ability to draw. He said to me: "If you want to make money in art, you need to be a graphic designer." I had no idea what that meant exactly as a 12-year-old, but I was intrigued, to say the least. As a teenager, I remember when my dad brought home a Macintosh computer for the first time with a game and color software. He said it was the future of business. I was so infatuated with all of the color options in the drawing program that I decided it was impossible to ever have a favorite color again! There are just too many beautiful colors in the world.
I took my art teacher's words to heart throughout high school when I signed up for art classes every semester. In addition to drawing and painting, I learned how to type and took photography. Do you remember the days of the floppy disks and typing on bulky typewriters? My photography class was in the days before digital cameras. I shot photos of mostly nature and developed them in a dark room. I won a Finalist certificate from a college-level photography contest held by the
Photographer's Forum
Magazine in 1996. 
Next, I obtained a diploma in Advanced Office Technologies at Asher School of Business in Atlanta, GA immediately after high school graduation. I was a Journalist for the Student Government Association which gave me experience in interviewing and writing articles along with setting up the layout of the school's Newsletter. Soon after, things would begin to get very interesting in pursuing my career goals in design.
In 1998 a friend referred me to an entry-level Assistant Graphic Designer position available at her work. I was hired based on my high school art portfolio and was given a stack of tutorial books for Photoshop, Quark, Corel Draw, and Illustrator using a Macintosh computer. As I went through every exercise, my boss also taught me the importance of speed and accuracy. After a year, I found an opportunity to work for an ad agency called Advertising Props, where they created props for television commercials for clients such as Coca-Cola. After an unfortunate layoff, I freelanced for a year and worked on clients through the Creative Circle Staffing agency for clients such as Duke-Weeks and CH2M HILL. I freelanced for several clients, and on average I would be hired to assist them with being about 45% behind on their project deadlines. My dedication, professionalism, and skill allowed my clients to catch up on their workloads, thereby saving money and ensuring their client's satisfaction and goodwill.
Soon after my journey would lead me to find a permanent job through the staffing agency to work as a Graphic Artist for a boutique ad agency in Atlanta, GA called T.G. Madison Advertising. I loved my job and would have stayed for a long time but I accidently worked myself out of a job. That's another story, for another day. As my mom would say, "c'est la vie" – that's life! I tried to finish college at the Art Institute of Atlanta in 2001 but I couldn't afford it.
By finding a better solution to not being in control of my own future. I decided to join the US Army for education and leadership skills. I've been able to learn skills such as taking initiative, adaptability, and perseverance. After my honorable discharge, I returned to my work in Print Production in Dallas, Texas on clients such as the Cheesecake Factory and Baskin-Robbins in 2008. Then the Post 9/11 GI Bill was created and I was finally able to return to college.
The way I feel about my future is optimistic about continuing my aspirations for the creative field. Since I'm a disciplined, former Communication Specialist in the US Army, trained in troubleshooting computer networks, satellites, and radios. This experience gave me strong leadership skills, which have enabled me to improve day-to-day production processes as I transferred back into a creative role in my civilian life. This resulted in the reduction of expenses for companies by saving time and money. 
Next, I decided to study Entertainment Business for my bachelor's degree to truly understand the admin side of the business where there's project management and marketing. Now I can see the entire picture in a project as the creative and business side of being an Art Director. Next, I finished my master's degree in New Media Journalism to pursue a career as a Director/Producer. 
Finally, today I'm relocated to the Jacksonville, Florida area to be near my family and watch the kids grow up. It has been an adventure in itself. My goal is to find a solid company in the area where I can call my home away from home for on-site, hybrid, or remote work.